Friedrich c90b Air Purifier
The Friedrich c90b air purifier is the replacement to the popular c 90a. Friedrich has improved this air purifier is several ways. If you liked the c 90a, then you will like this one too. This offers all the same benefits as the older model.
The Friedrich c90b air purifier is an electrostatic precipitator. It uses collector plates instead of expensive to replace filters. The main filter is an electronic cell. It is used together with a washable pre-filter and replaceable carbon filter. This means you will only have to replace the carbon filter. This keeps the cost of operating this machine down. However, to keep your Friedrich air cleaner working properly you will have to spend time cleaning the collector plates.
Type of Pollution Removed
The Friedrich c90b air purifier can remove particles from the air. The company reports this air cleaner can remove particles down to 0.01 micron in diameter. A regular HEPA filter can remove particles as small as 0.3 microns.
Dust, dander, and pollen are the particles that will be removed. Anyone who has allergies or asthma will be happy to hear this. This purifier will provide them some relief from their allergy symptoms.
Like most electrostatic cleaners it is able to remove smoke. We find it does not do a good job of getting rid of gasses, chemicals, and odors.
To remove odors is has a carbon filter. We feel there is not enough carbon to do much good. During the first couple of weeks using a new filter, you will notice it removes odors. We think it will quickly stop removing odors. The same goes for chemicals and gasses. There is just not enough carbon to do the job.
Type of Filter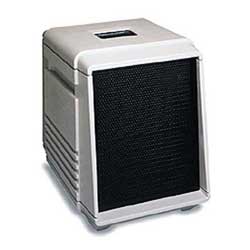 The Friedrich c90b air purifier
The Friedrich c90b air purifier is an electrostatic air cleaner. It uses three different kinds of filters.
A pre-filter
Electronic cell
Activated carbon filter
The main filter is permanent. That's right. A Friedrich air cleaner has a permanent electronic cell. You will never have to buy a replacement for the main filter. The electronic cell will need to be cleaned (a lot.)
The fastest and most convenient way to clean it is in the dishwasher. The electronic cell is 16 inches by 12.5 inches by 4.5 inches. Make sure it fits before you try to put it in your dishwasher. Be careful not to break the ionizing wires or bend the plates. The are delicate and it is easy to damage them if you are not careful. Complete instructions are in the owners manual.
If you don't have a dishwasher or your dishwasher is too small you can clean the filter by hand. It is harder to do and it takes more time to do it this way. See the owners manual for complete instructions.
The pre-filter is plastic and washable. It should last a long time but you may eventually need to buy a replacement for it. You will not have to buy a replacement regularly. We figure you might need a new filter every 2 years or so.
You will need to replace the activated carbon filter every 3 - 6 months. It should be replaced when it no longer remove odors. You will not have to replace the filter if you don't want it to remove odors. You need to know the Friedrich c90b air purifier does not work without the carbon filter installed.
Four Stage Cleaning
The Friedrich c90b air purifier uses four different stages to clean the air.
Stage 1: A pre-filter catches larger particles in the air.
Stage 2: Air passes over ionizing wires that charge the particles in the air.
Stage 3: The charged air passes through metal collector plates. Particles stick to the plates removing them from the air.
Stage 4: The cleaned air passes through an activated carbon filter to remove odors.
One advantage of the Friedrich air cleaner is there is no expensive filter to replace. HEPA filters have to be replaced once every 6 to 12 months. The filters can be expensive. The c90b doesn't need these costly replacement filters. This will save you money over the years.
For us the big disadvantage with this air cleaner is that it requires frequent cleaning. Dust and other stuff rapidly builds up on the plates. When this layer gets thick, the efficiency of the purifier decreases. To keep your air purifier actually cleaning the air, you will have to clean it at least weekly. You probably should clean it every 3 days.
Many people fall for this "no filters to replace" and think this air cleaner is maintenance free. It is not. You don't have to buy replacement filters but YOU do have to spend a lot of time cleaning the plates. You will most likely spend at least an hour a week cleaning the filters.
YOU have to think about what you would rather do. Buy a new filter and change it every 6 months or clean the filter once a week and save money. We think most people aren't willing to make the commitment to clean the plates once a week. These people quickly have an expensive white noise machine.
Note: If you can't spend one hour a week, every week cleaning the filter, don't buy a Friedrich air cleaner.
Cost
The first thing to consider is the cost of the Friedrich c90b air purifier. The average price online is about $650, although we did see some places offering them as low as $550. So it will pay to shop around before you purchase one. Many online places also offer free shipping.
Replacement Filters
Two filters have to be replaced. The pre-filter and the carbon filter.
The pre-filter is about $33.
The activated carbon filter is about $25. This will need to be bought 2 - 4 times a year.
Electricity
We also should think about the cost of electricity required to use this air purifier. We used a few assumptions to make this calculation.
We use the lowest fan speed. Your air purifier is set on the lowest fan speed most of the time. Be aware that using you air cleaner on high for long periods of time will increase the cost of electricity.

We assume it runs 24 / 7. We recommend your air purifier is always on. This means you will always have clean air. Not using all day long will, of course, lower your bill.

We use a unit price of $0.1093 per Kilowatt hour. This is from the Department of Energy average for the entire USA. The actual price of electricity varies from $0.05 to $0.15 per kilowatt hour. You can check your electric bill to find out how much you actually pay.
At the lowest fan speed the Friedrich c90b air purifier uses 47 watts of power. We use the calculations found on our air purifier cost page.
40 watts / 1000 = 0.047 kilowatts

0.047 kilowatts * 24 hours * 365 days * $0.1093 = $45.00 per year
Let's add 10% to account for the times we will use a higher fan speed. So let's call it $50 a year. The result is your electric bill will increase by a little more than $4 a month.
Size
Machine Size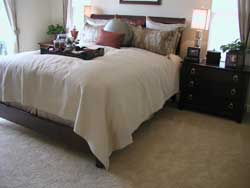 We have to think about the size of the purifier. The Freidrich c90b air purifier is not exactly small. It is 19 inches high, 15 inches wide, and 21.5 inches deep. It is not going to take up a lot of room, but it is not going to fit on a desktop.
It comes in at a reasonable 28 pounds. While it is not intended to be moved around your house, it is easy to do so.
Room Size
The manufacturer rates this machine able to clean a room 506 square feet. Is this a realistic room size. We should get 6 air exchanges each hour.
Using our calculations:
(390 CFM * 60 minutes) / (506 square feet * 8 foot ceiling) =
5.8 exchanges
We get almost 6 air exchanges an hour. This is a good number. This is at the highest speed. You will not be using your machine on high speed all the time. Your air cleaner will be on low speed just about all the time. Let's check our calculations using low speed.
(220 CFM * 60 minutes) / (506 square feet * 8 foot ceiling) =
3.3 exchanges
On low there are less than 6 air exchanges. What size room will have 6 air exchanges on low speed?
(220 CFM * 60 minutes) / (area * 8 foot ceiling) = 6 air exchanges
Solving for area we get 275 square feet.
This tells us that to get 6 air exchanges an hour we have to have a room 275 square feet.
Noise
This is not the quietest air purifier. It is quieter than most. It also moves a remarkable amount to air on low. Most air purifiers that are quiet are for a reason: On low they don't move much air. Not so with this one. It still moves a lot of air.
These are the noise levels for the Friedrich c90b air purifier.
| | | | |
| --- | --- | --- | --- |
| | | | |
| Low | 220 | 40 | Computer |
| Medium | 280 | 50 | Moderate Rainfall |
| High | 390 | 55 | Washing Machine |
Looking at the table, you can see that on low speed this purifier can clean a lot of air and it is still very quiet. It sounds like a computer.
Is it too loud to use in a bedroom?
The answer is individual. If you can sleep with a little noise in the room, then this will be okay in your bedroom. If not then leave it in the living room.
CADR Ratings
The Friedrich c90b air purifier has inproved CADR ratings over the c 90a. It is one of the highest ratings of any air purifier tested by AHAM. You can read more about the goods and bads of CADR ratings.
Dust: 384

Pollen: 421

Smoke: 326
Warranty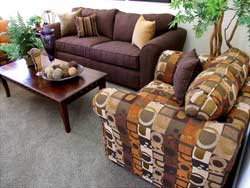 The Friedrich c90b air purifier has a limited 1 year warranty. It will cover defects in labor and parts.
By-products
This unit produces ozone. It was tested by an independent company. The amount of ozone produced was 0.014 ppm. This is well below FDA guidelines of 0.05 ppm. Although this machine, like all electrical appliances, produces ozone the levels are low enough that it should not negatively impact anyone's health.
Special Features
The Friedrich c90b air purifier has no special features. It is a very basic model with basic controls.
Summary
Here is a summary of the Friedrich c90b air purifier.
Type of Pollution Removed

Particles, Smoke, and Odors

Electrostatic with Collector Plates

Unit: NA
Pre-filter: $33
Activated carbon filter: $25
Electricity: $50

Unit dimensions (HxWxD): 19 X 15 X 21.5 inches
Weight: 28 pounds


Area cleaned: 506 square feet

Low - 40 dB - Sounds like a Computer
Medium - 50 dB - Sounds like Moderate Rainfall
High - 55dB - Sounds like a Washing Machine

Dust: 384
Pollen: 421
Smoke: 326

1 year limited

Ozone -- 0.014 ppm

None