Alen Air Paralda Reviews
The Alen Air Paralda

provides great performance we have come to expect from Alen Air purifiers.
This air purifier is designed to do a great job filtering the air and look good at the same time.
Do you secretly dread the coming of spring? Does it fill you with uneasiness? Knowing that you will begin the yearly ritual of sneezing, sniffing, and coughing once again. It's hayfever time again.
You want to be able to breathe easier. You need an air purifier. But they all look so ugly and boring.
Would you like an air cleaner that looks great? And still does a fantastic job?
That's as advantage, right?
And if it was energy efficient and environmentally friendly as well?
Even better, right?
Can you top that?
Features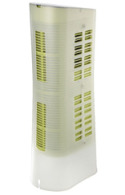 Alen Air's Paralda
HEPA filter with activated carbon
Long lasting UV light
Optional Ionizer
4 speed fan with a timer
Filter change indicator light
Programmable
Lifetime warranty
Size
The Alen Air Paralda is 7" X 11" X 28" high. This is a tower air purifier. It takes up only a small amount of space on the floor.
It weighs in at 15 pounds. This is twice as heavy as the Alen air t100. It is still quite portable. You can easily carry this from room to room.
The Paralda is recommended for a room up to 400 square feet. We feel that it should be used in a smaller room. Optimal performance would come in a room 200 to 250 square feet. This means offices, play rooms, bedrooms.
Filter Type
The Paralda has 4 methods of cleaning the air in your house.
It relies on a HEPA filter as the main method of filtration. HEPA filters can remove 99.97% of particles 0.3 microns and larger. This can remove pollen, dust, dander, and other allergens.

There is also a thin level of activated carbon. This is to help remove smoke and odors. We feel that this thin layer of carbon is not nearly enough to do any good. It seems to be included almost as an afterthought.

The Alen Air Paralda uses UV light to kill germs and bacteria. There is no doubt that UV light can kill harmful organisms. This model has the same problems that all air filters that rely on UV light have. In order for organisms to die, they must remain under the UV light for a short while. We feel the air moves through the UV light too quickly for it to work effectively. In short, they work, but not as well as they are advertised to.

The Paralda has an ionizer. This feature can be turned on and off. Ionizers create negative ions. These ions cause the particles in the air to be attracted to each other, the walls, ceilings, and floors. This can increase the efficiency of the air purifier.
Filter Maintenance and Replacement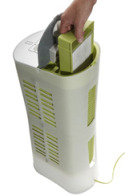 The Paralda with an open cover.
The HEPA filter can last 6 - 9 months. This varies depending on the environment. However, the lifetime warranty requires you to change the filter every 6 months.
Replacing the filter is really easy. Open the top cover. The HEPA filter and the UV light slide out. A replacement can slide right in.
We were worried about this design at first. There is the possibility that air could by pass the filter and get back into the room. However, in test at air-purifiers-america.com, the Paralda removed 99% of the particles in the air.

Style
Alen Air has designed the Paralda to be pleasing to the eyes. With this model is not ugly but graceful. The curves and color of this purifier beg to be shown off and not hidden away in a corner behind the Lazy-Boy.
The sweeping curves of the design are eye pleasing. The outer shell is transparent while the inner components are bamboo green.
The Paralda has a retractable cord so no longer will you have to see a long, ugly cord snaking its way across the floor.
The top cover has an automatic shut feature. You start closing the top and it will finish by itself.
Does this serve any useful purpose? . . . No, it is just cool.
Programmable
The Paralda can be programmed. It can run up the three different times during the day. The fan speed is also programmable.
We really like this feature. It will save even more energy. You can set it to start running at a higher speed just before you get home or go to bed. The air will be cleaner when you want it to be.
Cost of Maintenance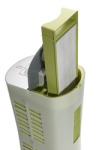 The HEPA filters need to be replaced every 6 months. The replacement filter cost about $50.
A silver ion filter is also available for $60.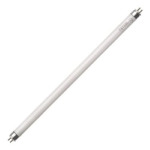 The UV light bulb needs to be replaced every 3 years. It is $60.
Warranty
Like all Alen Air Purifiers, the Paralda has a lifetime warranty. The warranty requires you to replace the filter every 6 months.
This is a copy of Alen's warranty as found in the owner manual:
Alen will, at its option, either furnish a replacement part or replace your air purifier provided the product is determined to be defective as a result of faulty material or workmanship, while in normal use. Replacement parts or units will be either new or refurbished. Alen's sole obligation under this warranty is to replace, or at Alen's discretion, to repair, free of charge, all defective parts.
It is only valid for the original purchaser. Shipping charges are not included in the warranty.
Green design
It's colored green. It is also designed to be green. It is RoHS (Reduction of Hazardous Substances) compliant. RoHS was passed in the European Union in 2006. It aims to reduce the use of lead, mercury, PBEs, and PBDEs (used as flame retardants.) None of these materials are in the Paralda.
It's very energy efficient and uses less energy than a light bulb.
Advantages
HEPA filters
Sexy design
Lightweight and Small
Prgrammable
Eco-friendly and energy efficient
Lifetime Warranty
Disadvantages
Good for medium, but not large rooms
Not good for odor and smoke removal
Customer Reviews
There are many positive reviews of the Paralda. There were very few complaints about the Paralda. We think this is because these purifiers are not widely used yet.
Here are some good things customers had to say
Reduced asthma symptoms
No increase in electrical bill
Look great in any room
Our Recommendations
We think this is a great little air purifier. It does an excellent job of removing allergens and other asthma triggers. This air purifier doesn't release ozone. So it is safe for everyone.
Its sleek design and excellent performance makes this a great air purifier.
The environmentally friendly design adds another advantage. The Alen Air Paralda doesn't contain lead or other harmful materials. If you are concerned about the environment, you can rest easy. Your purchase of a Paralda is not as harmful to the environment as another air purifier would be.
We would recommend this for anyone with allergies.
Click here to check the price of this air purifier at Amazon.com
Related Articles